There are many opportunities for current federal employees seeking a change, and for federal retirees to return to work with high paying federal government contractors. I've seen first-hand, during my 35 years of government service, retirees returning to work as contractors with companies such as Booz Allen, Lockheed Martin, and others.
The Top 68 Federal Government Contractors are listed on this page with direct links to their website and recruiting page for quick reference. Others who provide federal government contractor lists often link you to their internal pages instead of direct to the company website and recruiting and application pages. Use this list to explore companies of interest and to find and apply for high paying job vacancies.
Federal Contractor Opportunities
Federal employees can often retire early, some in the late 40s and early 50s. They often desire a change of venue by seeking out high paying employment with the major federal contracting firms. Contractors seek out federal retires for their expertise in many areas and to take advantage of their many years of field experience. A federal retiree's annuity is not reduced when returning to work for private sector employers.
Contractors, Post Your Critical Vacancies Here
We offer job posting options for federal contractor's critical job vacancies. A Featured Jobs (Banner) located at the top of job postings on this page or a text link added to the top of our JOBS LISTINGS. Featured Jobs and text link job postings are available on FederalRetirement.net. Use our job posting request form to post your vacancies.
Menu
Top US Federal Contractors
Cyberspace Exercise Planner
Develop exercise plans and directives through the application of operational art and operational design, and by using the Joint Planning Process (JPP) through the Joint Exercise Life cycle (JELC). Fort Meade, Maryland
View Job Description & Apply
Employers - Post critical job vacancies on our sites.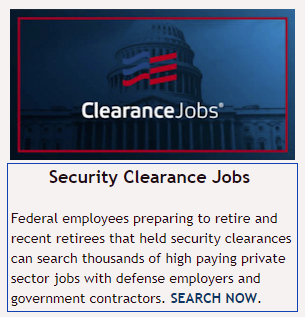 NOTE:
Re
view the
Retiree Job Hunting Resources
and other independent
recruiting services
that we list on this site. Take advantage of our free services to find jobs that match your skills, education, background, salary, and schedule requirements.